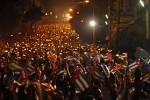 Latin American and Caribbean statesmen joined thousands of youth participating here in the March of the Torches, paying tribute to Cuban national hero Jose Marti on the eve of the 161st anniversary of his birthday.
Head of State of Venezuela, Nicolas Maduro, Bolivia's Evo Morales, Nicaragua's Daniel Ortega, Uruguay's Jose Mujica, Haiti's Michel Martelly, and Guyana's Donald Ramotar marched alongside Cuban youth and President Raul Castro.
Prime Minister of Jamaica, Portia Simpson, of Antigua and Barbuda, Baldwin Spencer, and of Saint Vincent and the Grenadines, Ralph Gonsalves, also participated in the march.
The leaders, who are in this capital to participate in the 2nd Summit of the Community of Latin American and Caribbean States (CELAC), began the march from the steps of the University of Havana to the Fragua Martiana (Museum of Marti's forge), where they paid tribute to the Cuban leader, the genuine advocate of unity and Latin American integration.
During the act, which preceded the traditional march, the president of the Federation of University Students, Yosvani Montano, expressed the validity of Marti's ideas, revitalized by the so-called Generation of the Centenary, led by the historic leader of the Cuban Revolution, Fidel Castro.