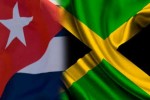 Jamaican Prime Minister Portia Simpson Miller will carry out an official visit to Cuba next week, the Jamaica Gleamer reported on Friday.
The minister with responsibility for information, Sandrea Falconer, told journalists that the Prime Minister has accepted an invitation from Cuban President Raul Castro.
She said during her visit, Simpson Miller is expected to engage in discussions on regional and international issues as well as bilateral talks on possible areas of increased cooperation.
Falconer says the heads of Government will explore issues of climate change, natural disasters, transportation, intra-regional trade, science and technology among other matters.