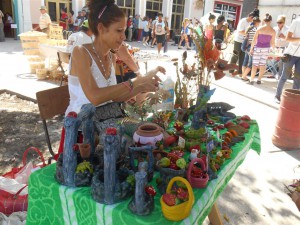 New regulations will be in force starting next November 1st, in Sancti Spiritus, central Cuba.
The new provision issued by the Council of Municipal Administration establishes a series of measures aimed at ordering activities such as the cleaning schedules of houses and institutions, walking the dogs, the proper use of wastebaskets, and the kind of posters permitted to announce private business.
In relation with the self-employed businesses based in the abovementioned areas, the new rules prohibit both the exhibition and sale of products in front of institutions or houses. This activity will be only permitted inside authorized establishments.
This also applies for the artisans under the Cuban Fund of Cultural Property (Fondo Cubano de Bienes Culturales). The Council of Municipal Administration can exceptionally authorize the use of certain bazaars on a temporary basis during festivities.
In an attempt to revive nightlife in the city, the resolutionalso approves extended hours for cultural, commercial, and gastronomic centres, depending on the day of the week.
In view of these regulations, the President of the Municipal Assembly of the People's Power in Sancti Spiritus, Yoel Gallardo, told Escambray that "The intention is not to ban, but to arrange".