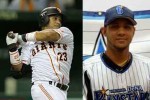 After several weeks of his inclusion in the Japanese Major Leagues of baseball, Cuban star player Yuliesky Gourriel exhibits better stats than his compatriot Frederich Cepeda.
In 15 matches with the Yokohama Dena Baystars, Gourriel has a batting average of .327, which is really outstanding considering his brief adapting period to the new competitive scenario and the high quality of pitchers in the Japanese baseball-circuit.
This Sunday in his last outing to the ground, Yuliesky Gourriel went 2 for 2 against the Hiroshima Toyo Carp with three RBIs, and his fourth homer of the season, but his team was defeated 7-5.
Gourriel played as second baseman and hit third in a line-up of a squad that is sailing through rough seas in the Central League by appearing in the last seat with 29 wins and 39 losses, according to the official site of Japanese baseball.
Meanwhile, Cepeda shows a slight offensive improvement but still has a poor average of .194 with five homers and 15 RBIs in 29 games ​​with the Yomiuri Giants, leader of its division with a balance of 40-28.
The recruitment of Yuliesky Gourriel and Frederich Cepeda to intervene in
the 2014 Japanese Major League Baseball season corresponds to a policy by the Cuban Baseball Federation to promote the presence of its players in
foreign championships.