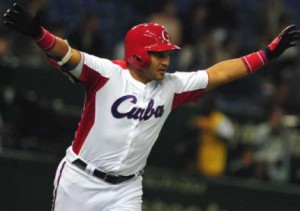 Frederich Cepeda will exchange with Escambray users next Tuesday, May 6th.
Before leaving for Japan, where he will play with the Yomiuri Giants for six months, the outstanding Sancti Spiritus outfielder Frederich Cepeda will give an online interview next Tuesday, May 6th, at Escambray journal headquarters.
Due to the great deal of interest arisen by his participation in the Nippon professional league, the Roosters' 24 will try to explain to his fans about an issue on which, according to what he said in a previous interview, he has a lot of questions himself.
Cepeda on the NPB: I Have a Lot of Expectations
Frederich Cepeda to Play in Japan
From this Friday through May 6th, the readers can write their questions or comments in this section, or they can e-mail them to cip220@cip.enet.cu.
Related articles across the web