Sancti Spiritus outstanding outfielder Frederich Cepeda Cruz, is one of the 24 players that make up the Cuban baseball team to participate in the Central American and Caribbean Games, to be held November 14th to 30th.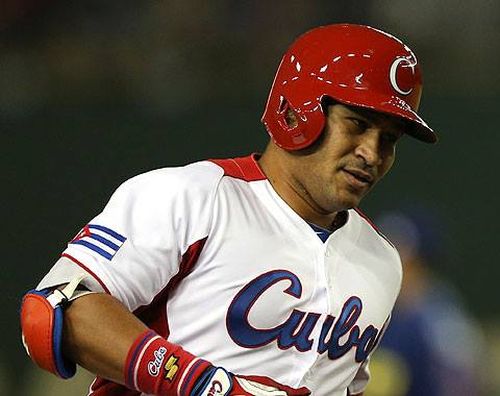 The team was announced in a press conference at Havana's Latinoamericano Stadium. The squad will be coached by Victor Mesa, and includes only three veterans of the previous edition in Cartagena 2006, in Colombia: the infielders Alexander Malleta and Yulieski Gourriel, along with outfielder Frederich Cepeda.
According to ACN, the team is characterized by the versatility of its players, who will attend the traditional multidisciplinary event with the aim of winning the gold medal.
The side members will gather together on the aforementioned facility from next Friday for a brief period of training, which will include matches to finalize details about the order of the pitchers and the regular lineup, Mesa said.
The starting line-up could be Yosvani Alarcón as catcher, Alexander Malleta, Yulieski Gourriel, Luis Yander O and Yordan Manduley as infielders, with Alfredo Despaigne, Roel Santos and Alexei Bell in the outfield, and Yadiel Hernandez as DH, the manager added.
In the Central American and Caribbean Games, Cuba has won the baseball title 14 times -the last one was in 2006, and returns to the event after missing the edition of 2010, held in the Puerto Rican city of Mayaguez.
This is the entire list of the Cuba baseball team to Veracruz 2014 Caribbean and Central American Games:
Catches: Frank Camilo Morejón, Yosvani Alarcón and Yulexis La Rosa.
Infielders: Yulieski Gourriel, Lourdes Y. Gourriel, Alexander Malleta (L), Yordan Manduley, Luis Yander La O and Dainer Moreira.
Outfielders: Alfredo Despaigne, Alexei Bell, Roel Santos (L), Frederich Cepeda (S) and Yadiel Hernández (L).
Pitchers: Fredy Asiel Álvarez, Norge Luis Ruiz, Héctor Manuel Mendoza, Yoanni Year (L), Yosvany Torres, Yaisel Sierra, Vladimir Gutiérrez, Julio Alfredo Martínez (L), Cionel Pérez (L) and Jonder Martínez.