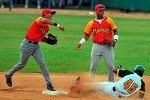 The 54th Cuban Baseball Season (SNB for its Spanish acronym) kicked off last Sunday with the game between current champion and runner up, Pinar del Rio and Matanzas.
The first subseries of the 54 SNB ended with Las Tunas as the only undefeated squad, and Sancti Spiritus and Guantanamo winning their three-game confrontation vs. Ciego de Avila and Santiago de Cuba in what are considered the surprises of the beginning.
The Leñadores (Woodcutters) from Las Tunas swept Camaguey Bulls with scores 5×4, 7×1, and 12×2, beating hard young and talented Norge Luis Ruiz who ended up with 5 earned runs in 5 innings on Tuesday.
Sancti Spiritus faced a tough match against Ciego de Avila Tigers but managed to win the subseries with good pitching and opportune offensive production. Livan Monteagudo was the man of the games with 3 homers and 7 runs brought in.
Guantanamo Indians shocked Santiago de Cuba and grabbed the match while recovering from an initial knockout 2×12. The team of the easternmost province of Cuba won 2×0 and 5×3.
Artemisa, Villa Clara, and Granma did as expected and triumphed 2×1 in their confrontations vs. Isla de la Juventud, Cienfuegos and Holguin.
Matanzas Crocodiles managed to beat the champions twice while Industriales and Mayabeque tied and could not celebrate the last game due to rain.
The coming subseries are: Isla de la Juventud-Pinar del Rio, Matanzas-Mayabeque, Industriales-Santiago de Cuba (TV broadcast), Cienfuegos-Artemisa, Villa Clara-Granma, Ciego de Avila-Holguin, Las Tunas-Sancti Spiritus and Camaguey-Guantanamo, with the first teams being locals.