Cuban First Vice-President Miguel Diaz-Canel called for stronger unity and dialog among Cubans during a meeting in Havana with members of the Protestant Christian community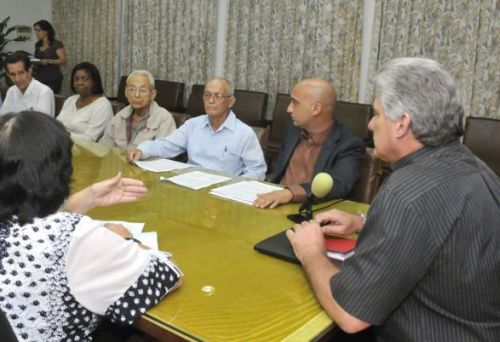 Diaz-Canel recalled the days when misunderstandings prevailed at certain occasions between the government and the community and that respectful dialog later overcame those difficulties, as he brought back the first meeting between Fidel Castro with religious leaders in1984.
The meeting not only helped to recall that event 30 years ago, but also to exchange views on current challenges. The Cuban vice-president expressed the wish to share all concerns in the economic and social areas, and address the challenges regarding the rescue of social values and avoid, he said, that someone tries to impose a capitalist, neocolonial and neoliberal platform.
Meanwhile, the President of the Cuban Council of Churches, Joel Ortega stressed the significance of the role the Protestant Christian community has been playing, while the Reverend Pablo Oden Marichal called for a further ethical effort that leads faith to the community of believers based on human and patriotic values.
"We must recall the thinking