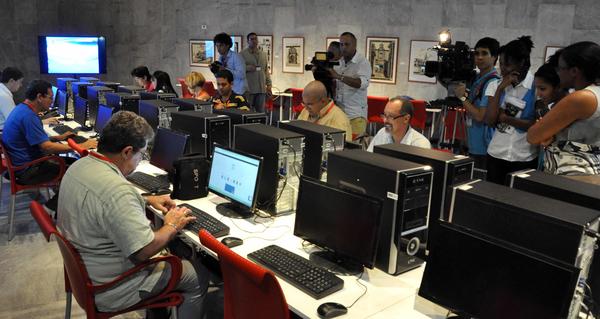 A press room was opened on Thursday night at the Palace of the Revolution to facilitate coverage of the Fifth Caricom-Cuba Summit, where on December 8th Caribbean Heads of State and Government will meet.
The facility, located at the headquarters of José Martí Memorial, has Wi-fi and free Internet in surrounding areas and television sets connected to the internal circuit for the live broadcast of the event, said Alejandro Gonzalez, director general of press, communication and image of the Ministry of Foreign Affairs (Minrex by its Spanish acronym).
The official showed other facilities such as 20 computers already loaded with useful applications and telephony and photocopying services, enabled for domestic and foreign journalists that will cover the great event.
To provide the official signal to other countries via video and audio, they also enabled a Center for International Broadcasting at the headquarters, said the director.
These conditions, said Gonzalez, will remain to provide coverage also to the XIII Summit of the Bolivarian Alliance for the Peoples of Our America-Treaty of Commerce of the People, which will take place on December 14 in Havana, Cuba.
Rebeca Hernandez, director of the Center for Multimedia Services at Minrex presented the official website of the Fifth Summit of the Caribbean Community and Cuba, available at http://caricom.cubaminrex.cu.
On this platform, users can access updated information on the development of the important meeting, as well as articles, videos and images concerning previous meetings of the regional organization.