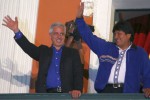 With slightly over 90 percent of votes counted, the Bolivian Supreme Electoral Tribunal has confirmed what exit polls had indicated on Sunday after polls closed.
The Supreme Electoral Tribunal has been slowly updating official results over the past week, the most recent update indicated that Evo Morales received 59.88 percent support of voters in Bolivia.
Morales' vote count is likely to increase as the final 10 percent of votes are counted. These results are coming in from rural areas, where support for Morales is strongest. In Bolivia the Supreme Electoral Tribunal has 5 days to do the counting and 15 days to release the official results.
Morales beat the second place candidate, conservative businessman, Samuel Doria Medina of the Democratic Union party, who only captured 25.07 percent of the popular vote. Former president Jorge Quiroga took third place, with 9.44 percent of the national vote. There were a total of five candidates running for president.
The secretary general of the Union of South American Nations (Unasur), Ernesto Samper, congratulated the president for his "conclusive victory" on Sunday. "For those of us in South America who have been waiting for great social transformation in the region, it is a pleasure to know that the trend toward these reforms, toward popular participation and equality is continuing in many of our countries," he said in a letter addressed to Morales.
In addition, he promised that Unasur would provide "invaluable assistance" to the Bolivian government in facilitating its regional integration and a greater understanding of its peoples. Samper also confirmed that the regional organization would provide backing to Bolivia's proposed measures to promote social inclusion measures, democratization, and participation.
According to the latest figures, Evo Morales' Movement Toward Socialism (MAS) got the most support from the states of Cochabamba (65.86 percent), Oruro (65.88 percent), and La Paz (67.90 percent). Even in the opposition stronghold of Santa Cruz Morales received 48.55 percent.
A total of 5.97 million Bolivians living in Bolivian territory voted, and 272,058 Bolivians living abroad voted as well, mostly in Argentina, Brazil and Spain, according to the Supreme Electoral Tribunal.
Taken from telesurtv.net/english