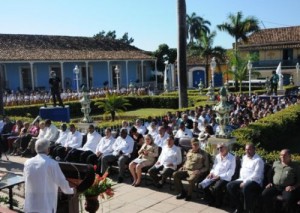 Dr. Eusebio Leal praised heritage of Cuba's third founded village
The historic and cultural legacy of the Cuban village of Trinidad was highlighted by Dr. Eusebio Leal Spengler, director of the Network of Historian and Curator Offices of the Island, during the ceremony held on occasion of the five centuries celebration of the city.
"Arriving in Trinidad is like going on pilgrimage", said Leal Spengler when delivering his speech in the solemn session of the Municipal Assembly of the People's Power, which was presided over by Esteban Lazo Hernández, chairman of Cuban Parliament, and Adel Yzquierdo Rodríguez, vice-president of the Council of Ministers.
The also historian of the city of Havana praised the contribution of all those who, for centuries, have fought "for freedom and for building up the beauty, which is also an indispensable issue". He particularly remembered the role played by historians Manolo Bécquer and Carlos Joaquín Zerquera, as well as by the architect Roberto López Bastida.
The ceremony was also attended by Jorge Luis Cueva Ramos, member of the Secretariat of the Central Committee of the Party; Antonio Enrique Lussón, vice-president of the Council of Ministers; Manuel Marrero, minister of Tourism; Rubén Remigio Ferro, president of the Popular Supreme Court; Commanders of the Rebel Army Belarmino Castilla and Víctor Dreke; and Joaquín Bernal Camero, who was appointed First Secretary of the Party when Sancti Spiritus was first established as province in 1976.
Also present in the event were Jose Ramon Monteagudo Ruiz, member of the Central Committee, and first secretary of the Party in the province, as well as Teresita Romero Rodríguez, president of the Provincial Assembly of the People's Power, along with local authorities and culture personalities.
During the solemn session, the Key of the City award was handed over to renowned heritage researcher Alicia García Santana, to museologist Víctor Echenagusía Peña, from the local Curator's Office, and to the Santander family, symbol of Trinidad handicraft work. Likewise, painter Carlos Hugo Matas was granted the Unique Prize of the Arts.
In order to pay homage to the half-millennium anniversary of the third village founded in Cuba, an artistic gala entitled Authentic Trinidad: a gift from heaven had been held the previous night, at the local Plaza Mayor.
[nggallery id=84]