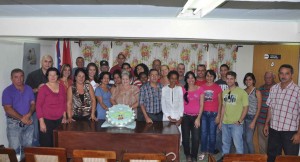 Thirty-five years after its foundation, the staff members of Sancti Spiritus Escambray newspaper, ratified this January 4th their commitment to the call made by the country's top leadership towards the improvement of professionalism in the journalistic exercise.
In a meeting with local political and governmental authorities, the workers made a statement in favour of fostering investigative and opinion journalism, while avoiding hypercriticism, and closing doors to apology.
In this respect, they said that none of the several prizes and recognitions so far received will make the job of the paper be numbed. They also highlighted the results of the website started back in 1999.
A facsimile of the front page of the first edition of Escambray, released on January 4th, 1979, was handed over to the Party leadership in the territory.
Deivy Pérez Martín, member of the Provincial Bureau of the Party, praised the work carried out by the newspaper, and extolled the integration of the different generations of workers as key factor for the results attained.