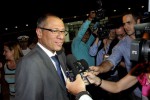 The Vice-President of the Republic of Ecuador, Jorge Glas Espinel, arrived in Cuba for an official visit, during which cooperation agreements between the two countries will be assessed and other topics of interest will be tackled.
The statesman, who travels to the Caribbean nation for the first time, was received at Havana's Jose Marti International Airport by Cuban Deputy
Foreign Minister Ana Teresita Gonzalez.
Glas Espinel told the press that one of the objectives of his stay is to
assess possible agreements for exchanges with respect to the pharmaceutical industry, the development of biotechnology, and advances in science and technology, in addition to other sectors like agriculture and livestock and food production.
Thursday will be the last day of his visit, during which he will also meet
with several Cuban government officials.