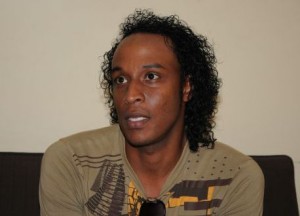 Cenesex policy has allowed the emergence of spaces free of generic definitions.
Like in the rest of Cuba, it seems that in Sancti Spiritus the rigid criteria regarding acceptance and sexual diversity that shook the island in the 60s, are being left behind.
By Oscar Salabarría Martínez*
The policy promoted by the National Center of Sexual Education (Cenesex) has allowed the emergence of spaces free of generic definitions.
"Amalgama (Amalgam project) was born in 2009, with the aim of educating the population. It was necessary to provide the people with the real meaning of words such as travesty, transsexual…It was essential to show everyone what we were already doing behind the curtains of artistic creation".
Previous words by Fernando Jiménez Conde, creator of the project, are sort of cover letter for a show staged with huge sacrifices: "Once I had to leave my mother on the ICU because I had to conduct a circle of transformers. It was very hard for me, but I had to do it. I don't consider myself indispensable, but there were hundreds of people waiting for me. That night it was an acting exercise. I returned to the hospital in the early morning".
So, is Amalgama a travesty show?
No, we are a group of artists that bet for the art of transformation, which we do as professionally as we can. Like Jared Letto, who's been awarded an Oscar this year as best supporting actor for his masterful man-into-woman trasformation, our transformers go on stage to play a part, and they do it in the same natural way in which Virginia Woolf turned Orlando into a sensible European lady.
Cuban writer Severo Sarduy refers to literary transvestism as the art of transformation. What's your opinion as professional theater actor? 
I am among those who think that transformation is an art. In my case, I play a character (Teo) in a radio program. But over here I'm the director. The plays we have presented at the Principal Theater are my own adaptations, and they've been quite successful.
I am also satisfied with the support and recognition granted to the project by the Provincial Council of Performing Arts. We're now working a Virgilio Piñera's piece, which recreates the human controversy on imposing criteria.
(…)
Is it difficult to fight homophobia in a province best known as traditionalist?
Perseverance is the secret to overcome possible obstacles. I think that this five-year work is the best answer. Many young people come on weekends, they call it "the fiesta", although I always call it the circle. Regular customers of ranchón Don Criollo generally like Amalgama, as well. The entrance ticket doesn't specify whether you are a man, a woman, a homosexual… I believe this struggle must be fought on daily basis.
Does the Saturday circle receive institucional support?
Yes. Someone complained once because of our presence at Casa de las Promociones Musicales (Music Promotion Center). Thus, we were visited by authorities from the local Party, and the complaint was turned into sincere congratulations. We've had different venues, but now we meet every Saturday in the backyard of Pio Lindo restaurant. I feel really greatful because the management boards of the different places where we've been so far, never asked for requirements.
What does Amalgama still lack?
The most necessary thing, a hearquarter, a permanent venue, as is the case of Mejunje, in Santa Clara. That way we could work from Monday to Monday.
Who does Fernando would like to thank?
If I would mention names, I could be unfair. I thank those who took care of details on the stage, the creators of so many transformed dresses. I would also want to thank the Youth and Family Orientation Center, and all those who applaud the art we do.
Your concept of the project…?
Amalgama is culture against homophobia.
 * Student of journalism.