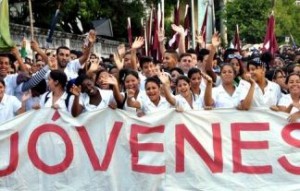 Cuban youth will take to the streets again this Tuesday to demand justice for the victims of terrorism, and freedom for Gerardo Hernández, Ramón Labañino and Antonio Guerrero, who are still kept in US prisons for fighting terrorist acts.
"I'm Cuba", will be the proclamation of the young marchers all over the island, who will this way reaffirm their commitment towards truth and solidarity.
In Havana, demonstrators will walk from the University to Tribuna Antimperislista Jose Marti, where the march will be concluded with a performance by David Blanco, Adrián Berazaín, Héctor Gutiérrez, Aramís Padilla, and La Colmenita theatre company.
Taken from AIN and translated by Escambray