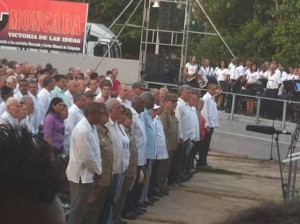 Artemisa, cradle of many of the brave combatants that participated in the heroic events of July 26, 1953, is the venue this Saturday of the national political and cultural rally to mark the 61st anniversary of the attacks on the Moncada and Carlos Manuel de Cespedes barracks.
The meeting is attended by 8,000 Artemisa residents representing their combative people, and protagonists of the actions of July 26 and members of the Granma yacht expeditionary force.
The commemoration is attended by members of solidarity-with-Cuba brigades; leaders of political, mass and social organizations of the territory; members of the Revolutionary Armed Forces and the Ministry of the Interior, and guests especially invited for the occasion.
The main speech of this rally to mark the Day of National Rebelliousness will be in charge of Artemisa-born Commander of the Revolution Ramiro Valdes, member of the Politburo, vice-president of the councils of State and Ministers, Hero of the Republic of Cuba and one of the participants in that heroic deed.