Cuban athletics conquered five titles, thus maintaining its good performance in the 22nd Central American and Caribbean Games, based in Veracruz , Mexico, where the rowers won't heir first title.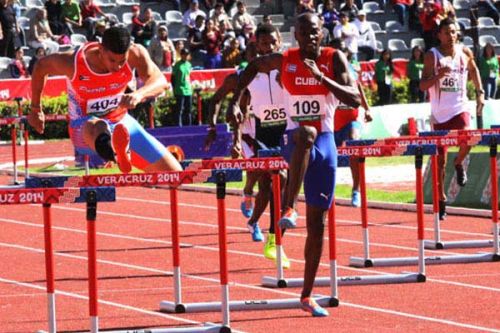 The golden path was initiated by Omar Cisneros, who won the men´s 400 meter hurdles with time of 49.56 seconds to achieve his season best and relegating to Puerto Rican Eric Alexander ( 50.05) and Leslie Murray from Virgin Islands ( 50.21).
Another source of joy was the gold medal won by Sergio Mestre, in the men's high jump by reaching 2.26 meters, which was his personal best.
Mestre was escorted by Venezuelan Eure Yanez and Bahamian Ryan Ingraham, both with 2.24 meters.
Also on Thursday, Roberto Skyers and Reynier Mena made the one-two in the men´s 200 meters , just like their compatriots Yorgelis Rodriguez and Yusleidys Mendieta, who conquered in that order the gold and silver medals in the women´s heptathlon.
In other results, Andy Gonzalez (3:45.52 minutes) beat on the line the host Pablo Solares, while the bronze medal went to the also local Christopher Sandoval in the men´s 1 500 meters.
In women´s athletics, Cuba also earned silver medals through Yaniuvis Lopez andDainelis Alcantara in the shot put and triple jump, respectively; and Adriana Muñoz finished third in the 1 500 meters.
Related to rowing, Cuba reached the first title at Mandinga Lagoon, by winning themen´s coxless four event with time of 5:45.10 minutes and was escorted by México (5:50.91) and Venezuela (6:05.94), in that order.
In badminton, Osleni Guerrero, best player in the Americas, qualified to the semifinals in the men's singles and his opponent will be Guatemalan Rodolfo Ramirez.
The Cuban women´s, men´s and mixed doubles of that sport also qualify to that same round.
In team sports, Cuban women´s softball beat 3-2 Mexico, and the men´s water polo defeated 10-7 Venezuela in the preliminary stage.
In beach volleyball, the women won 2-0 over the Dominican Republic, but men lost 0-2 to the host duo; while the men's volleyball were defeated in three sets by Puerto Rico.