The first group of Cuban athletes to take part in the 22nd Central American and Caribbean Games, arrived in the Mexican city of Veracruz, venue of the world's most ancient sport event from November 14 through 30.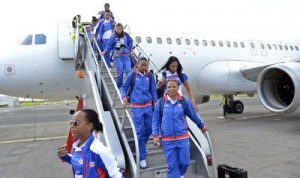 The mission, made up of over 300 competitors, sport leadership, and support staff, was seen off in Havana by Cuban First Vice President Miguel Díaz-Cannel.
Tomás Herrera, director of international relations at the National Institute of Sports, Physical Education and Recreation, said that Cuban sportspeople opt for 329 titles from the 434 sets of medals in contention in the towns of Veracruz, Xalapa, Tuxpan, Cordoba and Coatzacoalcos.
With the third largest delegation, surpassed only by the hosts (713) and Venezuela (546), Cuba will attempt to win for tenth consecutive time in the history of these events, c hain woven since Panama City in 1970, not counting the absences in San Salvador 2002 and Mayagüez 2010.
According to several press dispatches of the host country, the open ceremony will be on November 14th at Luis Pirata Fuentes soccer stadium and Cuba's standard bearer shall be the greco-roman wrestler Mijail Lopez, double Olympic and five times world champion.
Under the slogan "Vuela Veracruz", the gala can be seen by some 30,000 spectators and will be attended by over 1 600 artists on stage, show that will essentially address on Mexican indigenous roots and the theme song will be "El Mar" (The Sea).