Cuban shooter Leuris Pupo acknowledged that he had not a good performance in the final, but he won the gold medal in the men's individual 25 meters rapid fire pistol event in the 22nd Central American and Caribbean Games, based at El Lencero Police Academy in this city.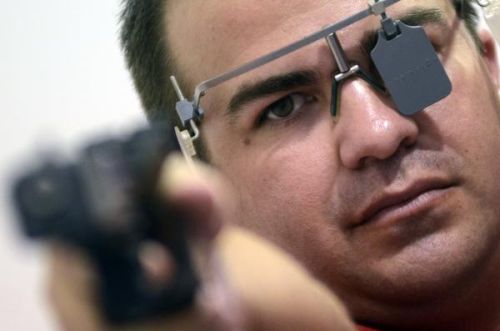 Pupo, who accumulated 29 points, had a perfect day, as he was also crowned in the team competition of the same specialty, with 1 863 thousand units, together with Jorge Felix Alvarez and Juan Perez.
The London 2012 Olympic champion added they all had a great performance despite some problems in the organization of the competition and dedicated the triumph to his daughter Celine, ¨his inspirational source. ¨
Knower of all limitations, Rafael Guerra, president of the Cuban Shooting Federation, expressed his happiness by the overfulfilment of the purposes that the athletes had set for the Games.
He highlighted the overall performance, especially that of Pupo, Estopiñán, Laina and Grau, owners of two or more titles, important contributions to the delegation, which competes to regain the first place by countries, like t hey did eight years in Cartagena de Indias.
Cubans shooters finished on top of the tournament, with 14 gold, seven silver and six bronze medals, Guerra said.
Venezuelan Douglas Gomez (27 points) and Alvarez (21) escorted Pupo on the podium in the individual contest, while in the team event, the squads of Venezuela (1 655) and Guatemala (1 608) accompanied Cuba.