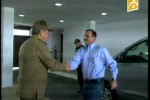 Fernando Gonzalez returned to Cuba February 28, after serving long sentenceCuban President Raul Castro welcomed anti-terrorist fighter Fernando González, who arrived in Havana today, after having served a long unfair sentence in a US prison.
Fernando González Back in Cuba
Congratulations Giant! Thanks for Your Example!
Fernando González Answers Questions by Cuban Bloggers
Relatives of Gonzalez, as well as members of the Cuban government, were also present during the encounter held at Jose Marti International Airport.
Yesterday, Gonzalez came out of the Safford Federal Prison, in Arizona, and was sent to the immigration services so as to begin his deportation process back to Cuba, where he arrived this Friday noon.
He is the second of those internationally known as The Five, who served his sentence, after Rene Gonzalez.
Fernando, René, Gerardo Hernández, Antonio Guerrero, and Ramón Labañino were arrested in 1998, when they were monitoring groups that, in US territory, planned and carried out terrorist actions against Cuba.
Gerardo, Antonio, and Ramón are still kept in US prisons, despite the huge international campaign that demands their release.
Taken from Prensa Latina, and translated by Escambray.
[nggallery id=90]