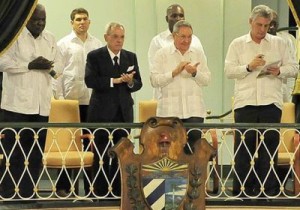 Army General Raúl Castro Ruz, first secretary of the Central Committee of the Communist Party of Cuba and president of the Councils of State and Ministers, attended the reopening of iconic Teatro Martí, in Havana.
The inaugural function on Monday was also attended by the First Vice President of the Councils of State and Ministers, Miguel Diaz-Canel Bermúdez and included a repertoire of luxurious interpretation of anthology pieces in Cuban musical tradition.
Under the name Regresar a Marti, the audience heard again in the legendary hall of the "theater of the hundred doors " ,fragments of the zarzuelas Cecilia Valdés, María la O, and Amalia Batista, chanted to the beat of the Damisela Encantadora by Ernesto Lecuona, and enjoyed a period staging starring Mario Limonta and Aurora Basnuevo .
Young talents of classical singing and dance were responsible for opening the new season at the "Marti " whose historical stage received so many figures, essential in the Cuban theater history.
Eusebio Leal, Historian of Havana City and responsible of the recovery of this architectural gem, described the opening as a small and modest tribute to the work of the Cuban nation.
He recalled that a day like that, on February 24, 119 years ago, the Necessary War began, driven by Jose Marti, who was recalled at the appointment of the coliseum, closely linked to the political destiny of Cuba.
He thanked all those who in one way or another made ​​this evening possible, part of a series of recovery efforts where the Capitolio and Gran Teatro de La Habana, symbols of national history and culture, are included.
Leal wanted to dedicate this function especially to Eduardo Robreño and Enrique Núñez Rodríguez, prominent intellectuals, writers and art lovers, who, according to him, dreamed of this moment.
Opened in 1884 and located in the heart of Old Havana, the Marti Theater closed its doors in the late 1960s, to resurface now after years of intense restoration which included the modernization of its internal structure without affecting the decoration and the original design.