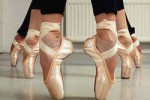 The Cuban National Ballet (BNC) will dedicate today the performance of Swan Lake to the 55th anniversary of the foundation of the Latin American News Agency Prensa Latina.
With that performance, the institution, directed by prima ballerina assoluta Alicia Alonso, begins a new season of the most famous classic ballet in history at the National Theater.
Swan Lake is a ballet composed by Pyotr Ilyich Tchaikovsky and an attractive playwright represented by two very seductive characters: the white, innocent, fragile, pure of soul swan, and the black, perverse, seductive and aggressive swan.
In addition of today's performance, Cuban people could enjoy this classic piece on June 21-22 and June 27-28-29.
Prensa Latina was founded in Havana on June 16, 1959, and currently has 31 bureaus abroad, and provides TV, radio, photography and editorial services.