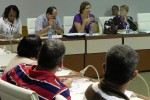 Cuban lawmakers demanded higher quality and more control of investment projects since they have a strong impact on the country's social and economic development.
According to a report submitted to the parliamentarians on Wednesday, major investment projects in 2014 are implemented in sectors such as textiles, shoe making, the digital television program, raw materials, as well as in the modernization of a steel plant in Havana, which will reach a production capacity of up to 340 thousand tons of steel bars.
The president of the parliament commission analyzing the issue, lawmaker Santiago Lajes, said that a recent visits by the deputies to several investment projects in 13 provinces allowed identifying problems such as inefficient technical preparation of the works, labor instability, lack of quality control, and failure to meet contracts along with the lack of skilled personnel.
The country is given steps ahead in strengthening investment control, though there are still gaps including problems at entrepreneurial level and failure to meet legal norms, the deputies agreed.