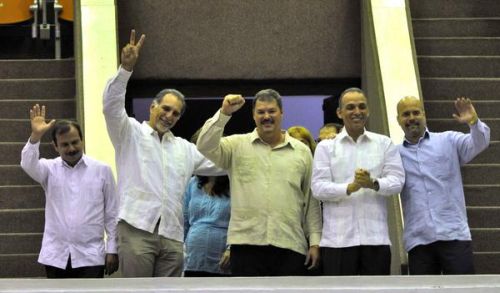 "The Five are already here," said Esteban Lazo, Politburo member and president of the National Assembly of People's Power (ANPP by its Spanish acronym), at the start today of the closing day of the Fourth Regular Session of the Eighth Legislature.   
Gathered at the Palace of Conventions in Havana, 546 deputies received, with endless applause, Gerardo Hernández, Ramón Labañino, Fernando González, Antonio Guerrero and Rene Gonzalez, who for more than a decade were unjustly imprisoned in the United States.
"You're all here already, physically, because you never were absent in the hearts of the people or the National Assembly that represents them; because the more unjust, lonely and inhuman your confinement was, the most you were present in the feeling of an entire people, " Lazo said before a shocked audience.
He thanked the Cuban Five by their firmness, heroism sample of the generations formed after January 1st, 1959.
"Thanks for everything you represent in the historic struggle of Cubans in maintaining independence and social justice; and by persevering the ideas of the Revolution, led by Fidel and Raul, and that now in the present circumstances, mean working in building a prosperous and sustainable socialism for our people", Lazo noted.
He extended recognition to the mothers, wives, daughters and sons and other relatives of the Five, present at the meeting, who over the years became the freedom demand for their loved ones in fight flag against terrorism and in defense of the right of Cubans to live in peace and tranquility.
The parliament welcomed in addition to Juan Miguel González Quintana and his son Elián González Brotons, symbols of an indelible battle starring the entire nation in support for the claim of a firm father and determined to get his kidnapped son in Miami.
Also, the deputies received the Hero of the Republic of Cuba, Colonel Orlando Cardoso Villavicencio, internationalist fighter, who after being wounded and taken prisoner was taken to Somalia, where he was imprisoned for almost 11 years, where he showed a great strength, dignity and loyalty.
To all of them, the ANPP chairman said, "You are examples of ideas planted in the people by our revolution and how the spirit forged over a century of struggle is kept alive ".
"Our gratitude will be everlasting, because you are indelible symbols for Cuban current and future generations when facing the challenges of today and tomorrow," Lazo stated.