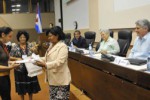 Cuban First Vice President Miguel Diaz-Canel called on all Cubans to work with strict commitment to legality and to fight social indiscipline, Prensa Latina news reported on Thursday.
In his closing remarks of the First International Forum on Supervision, Audit and Control, held in Havana, Diaz-Canel said that all state leading entities must fight indiscipline and he called for a people's debate on the issue, since this will serve to the understanding of current problems that must be addressed with honesty and high moral no matter how complex any situation may be, said the vice-president.
Speaking before some 180 representatives of 11 nations, Diaz-Canel stressed that internal control is currently at the center of political discourse in Cuba by the expressed willingness of the Cuban government, since it is a crucial task to achieve economic advancement.
The First International Forum on Supervision, Audit and Control was held during three days at Havana's Conventions Center as a scenario for the exchange of experience to improve control and supervision of economic and social activity of companies and other entities.