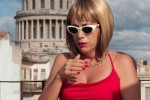 Hamburg's Cuban Film Festival opened at the Kino 3001 hall in that German city, the Cuban embassy in Berlin reported today.
With actress Laura de la Uz in attendance and the screening of the film "La película de Ana" (Ana's Film), by filmmaker Daniel Díaz Torres, the doors of the event were opened.
Hector Corcho, in charge of cultural affairs at the embassy, expressed gratitude to the organizers, who work in coordination with the traditional Cuban Film Festival of Frankfurt "Cuba in Film."
He said the current festival is part of actions developed in the Central-European country to celebrate the 55th anniversary of the Cuban Film Institute (ICAIC).
Meanwhile, De la Uz expressed gratitude for the possibility to present the most recent work by filmmaker Daniel Diaz Torres, and mentioned the various awards the film has won.