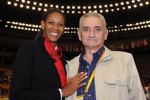 The International Volleyball Federation (FIVB) paid tribute today to recently deceased Cuban coach Eugenio George, recognized as the creator of Total Volleyball.
American football is symbolized by Vince Lombardi, basketball by Phil Jackson, soccer by Rinus Michels, and volleyball Eugenio George, said the FIVB at its website.
The "Morenas del Caribe," both spectacular and unique, were the best example of gender equality in sports. As a coach Eugenio George was always victorious, and now he will remain immortal, adds the note.
George will be remembered as a fiercely intelligent man, a leader in the sporting venues and a gentleman away from the court, says the article.
George, his leadership and revolutionary style were the key to the birth of the Cuban School of Volleyball, said the chronicle.
George died last Saturday at age 81, a victim of a cancer that he had suffered for months.
For his merits, including several Olympic and world titles, he was selected by the FIVB as the best coach of female volleyball athletes in the twentieth century, and since 2005 was included in the Volleyball Hall of Fame.