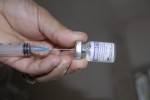 Russia's Health Minister Veronika Skortsova stressed in Moscow the quality of the Cuban biotechnology industry and expressed her interest in having a larger presence of Cuban pharmaceuticals in her country.
Skortsova met with Cuban ambassador to Moscow Emilio Losada, who addressed the prospects to further bilateral relations between both countries in the medical field.
During the meeting, Losada was accompanied by the general director of the Havana-based Genetic Engineering and Biotechnology Center, Doctor Luis Herrera, who expressed his entity's willingness to implement joint projects with Russia in order to increase the quality of life of the two peoples.
Major products on the portfolio of the Cuban scientific center include the
diabetic foot ulcer pharmaceutical known as Heberprot-P, which has been registered in over 20 countries and has benefitted more than 145 thousand patients.
The product has been administered to nearly 30 thousand Cuban patients helping lower the relative risk of lower-limb amputations by nearly 78 percent, which is considered a major achievement, according to medical sources, PL news agency reported.