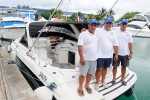 Thanks to the capture of five Dorados and four Marlins, Cuba won the 64th Ernest Hemingway International Marlin Fishing Tournament, which was the second most attended edition in the last decade.
After four intense days, Santy- name of the ship that represented the island in its first official appearance as a team-managed to be crowned among the 21 crews from 10 countries enrolled in the event.
At the closing ceremony, Marlin S.A. Nautical and Marinas Corporate Group announced the final results of the competition, where 82 fishermen fought to catch the best specimen.
The boats Odds and Ends and Tag and Release, both from USA, ranked second and third respectively.
Other results show that Rebel Yell, from Spain, captured the largest tuna of the competition; while Canadian Macondo III got the biggest Marlin and Cuba's Santy achieved the record of the largest Dorado (40.5 pounds).
Alexis Trujillo, Cuban Tourism first deputy minister, said the contest was a sample of the wealth of the Caribbean archipelago marine environment, and opened the doors for next edition to be held next year from May 25 to 30.
Ernest Hemingway International Marlin Fishing Tournament, supported in the 1950s by the famous American writer, 1954 Nobel Prize for Literature, is only preceded by the World Tuna Cup in Nova Scotia, and Tarpon Tournament in Mexico.
Because of its location, Cuba is highly attractive for sport fishing; the deep basins of the Caribbean Sea, and the Straits of Florida and Bahamas serve as ecological barriers, while the great ocean currents connect it with the routes of pelagic species.