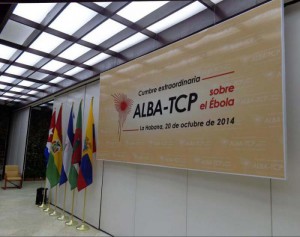 The Extraordinary Summit of the Bolivarian Alliance for the Peoples of Our America-Trade Treaty of the Peoples (ALBA-TCP) on Ebola started this Monday, October 20th with the official greeting to dignitaries of the member countries.
Granma newspaper reports that the heads of state of Venezuela, Cuba, Bolivia, Nicaragua, the Commonwealth of Dominica, Antigua and Barbuda, Ecuador, Saint Vincent and the Grenadines and St. Lucia will participate in the summit.
ALBA Heads of State in Cuba for Ebola Summit
Fidel Castro: The Time of Duty
Also Grenada and St. Kitts and Nevis will attend the event, countries whose incorporation into the bloc has already been approved. Haiti, permanent guest of the ALBA-TCP will also be represented in Havana. Along with the ALBA members, three delegations of international organizations: United Nations (UN), Pan American Health Organization (PAHO) and the Organization of Eastern Caribbean States (OECS) will participate in this extraordinary meeting.
This meeting follows the founding principles of the ALBA-TCP, which among its principles emphasizes the fight against poverty and social exclusion, which is specified in a collaborative and political, social and economic complementary project between Latin America and the Caribbean nations, focusing on global challenges that transcend the region, such as the current epidemic of Ebola.
In that sense, this Summit will aim at taking a diligent stance by the ALBA-TCP, at the call of the Secretary General of the UN and WHO to address, in a joint manner, the dangerous epidemic, caused by this lethal virus.