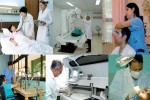 Cuba this year will preside over the 67th World Health Assembly, which is recognition of the achievements of its Revolution in the sphere of medical care and its role in the international arena, according to a senior health official.
The head of the International Department of the Cuban Public Health Ministry, Dr. Antonio Gonzalez, said that Cuba's collaboration with the World Health Organization (WHO), is well known, as well as its medical cooperation missions around the world.
The Assembly, to be held between May 19th and the 24th, is the supreme decision-making body of the WHO.
Today, thousands of doctors and other health care staff from the Caribbean nation run cooperation missions in more than 60 countries, mainly in Africa and Latin America.