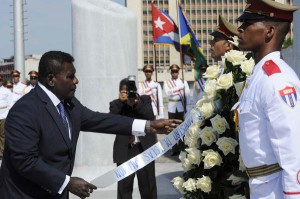 Cuban President Raul Castro received Friday afternoon Solomon Island Prime Minister Gordon Darcy Lilo who is in an official visit to Cuba.
During the meeting both leaders spoke on the good bilateral relations and
the cooperation possibilities. They also tackled the international situation.
Darcy Lilo was accompanied by his General Attorney Billy Titiulu and the new ambassador to Cuba Simeon Bouro. On the Cuban part were Foreign Minister Bruno Rodriguez, General Attorney Dario Delgado and Foreign Deputy Minister Rogelio Sierra.