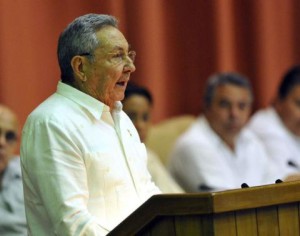 With the presence of the five Cuban heroes who were unjustly held in US prisons, the closing session of the IV Ordinary Period of the 8th Legislature of the National Assembly of the People's Power, took place this Saturday, presided over by Army General Raul Castro, president of the Councils of State and Ministers.
Cuba Parliament President Esteban Lazo welcomed Gerardo Hernández, Ramón Labañino and Antonio Guerrero, who together with René González and Fernando González make it posible that The Five, are they are known worldwide, "are physically present in this place, where their example was never absent".
Also invited to the meeting was Elián González, who was kidnapped by his American relatives when he was a kid, and after an international campaign, he was returned to his father by US authorities.
Hero of the Republic of Cuba, Orlando Villavicencio, who was imprisoned in Somalia for over a decade, was also present.
The meeting was broadcasted live by Cubavisión, Cubavisión Internacional, Radio Rebelde and Radio Habana Cuba.