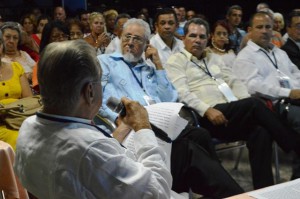 The XXV International Congress of Orthopedics and Traumatology closed this Saturday, in Trinidad, Sancti Spiritus, with confirmation of the steps to modernize Cuba orthopedic components.
The initiative is going to refinement, modernity in orthopedics and to turn Cuba into continental leader in the coming years, stated Dr. Rodrigo Alvarez Cambras, president of the Cuban Society of Orthopedics and Traumatology.
In statements to Prensa Latina, Alvarez Cambra said the German firm Otto Bock, invests in the Special Development Zone Mariel in a prosthesis factory and surgical appliances.
This leading international company, he added, will bring their creations to people who have lost limbs, from the most basic to the most advanced, such as mechatronic products to Cuba and Latin America.
Alvarez Cambras, representative from the Cuban in negotiations with Otto Bock stressed that the desire is to produce bio-electric hands and legs, all of which are very expensive and few nations produce.
The firm Otto Bock has more than 42 subsidiaries worldwide dedicated to research, production and supply. It has its representation in Mexico and represents his work and scientific developments in Central America and the Caribbean.