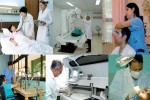 Chairing the 67th World Health Assembly is a high honor for Cuba and the acknowledgment of the results of the island's public health system over the past 55 years of Revolution.
The presidency of the Assembly rotates annually around the six regions included in the World Health Organization. This year The Americas was in charge and Cuba was proposed to chair the forum.
Cuban health minister Roberto Morales said that some of the subjects on the Assembly's spotlight are related to the impact of climate change on health and universal health coverage, in which Cuba has been an example for many years based on the policies implemented by the Revolution led by Commander-in-chief Fidel Castro.
"I think, this is also a homage to the work of Fidel," Morales stressed and went on to comment that the number of requests from different countries to foster cooperation with Cuba continues to increase.
During the Assembly Cuba has counted on the support not only of World Health Organization's member nations, but also of its directives, particularly general director Margaret Chan who sent a message of acknowledgement to the Cuban health system, and particularly to Revolution leader Fidel Castro, whom Chan met with some years ago and to President Raul Castro.
She sent them a message of acknowledgement, congratulations for the example given by Cuba in terms of health, cooperation and concrete actions in the struggle to improve the well-being of the peoples, Morales said.