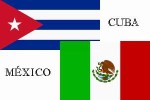 The governor of the state of Mexico Eruviel Avila and Cuban ambassador Dagoberto Rodriguez attended the signing of a bilateral collaboration accord in the field of education in Havana this week.
According to the Prensa Latina news agency, the agreement aims at increasing academic exchange, particularly in the areas of pedagogy and medicine.
During the ceremony in Mexico City, Governor Avila expressed his interest in strengthening bilateral relations and he noted that the signing of the document allowed to have a closer idea of how to further enhance bilateral links in tune with the good relations between the presidents of the two nations.
Meanwhile, the Cuban ambassador said that these kinds of meetings affirm the friendly relations that unite Mexico and Cuba as they also open new platforms to increase collaboration in different areas.