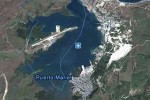 Cuban authorities invited foreign entrepreneurs in the construction field to invest at the Mariel Harbor Special Development Zone.
During the 10t International Construction Fair in Havana, the director of the Special Zone, Ana Teresa Igarza, briefed entrepreneurs about the business opportunities they are being offered at the zone. She said the development of that project requires foreign capital to guarantee important areas such as the production of light panels, ceramic floors, quality toilet infrastructure, steel pipes and metal structures.
The office in charge of the zone is already working with a group of foreign investors, who expect to materialize their businesses this year, and they are from Spain, Italy, Russia, China and Brazil. These investors have expressed interest in projects linked to the traditional Cuban industry, the food sector, biotechnology and logistics.
Over 160 representatives of 23 countries are participating at the commercial fair, which is considered the main forum in the sector in Cuba.