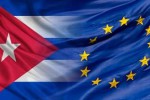 Cuba and the European Union have begun a round of negotiations towards a political and cooperation accord in an effort to contribute to the normalization of bilateral relations.
Cuba is one of the few countries of this region that has no such accords with the European Union as a result of the so-called 'Common Position on Cuba', a European restrictive policy towards the island, adopted by the bloc in 1996.
Last October, the two sides decided to resume political and cooperation dialog on equal grounds, with unconditional, non-discriminatory character and with full respect for the sovereignty of states.
As a result of this approach, the European foreign ministers gave their O.K. last February to guidelines for negotiations.
The Vice-President of the European Parliament, Miguel Angel Martinez, told Prensa Latina news agency that the opinion of EU governments on relations with Cuba favors normalization of relations. He said "the lack of those links damage the island and also Europe, particularly its image before Latin American nations and others from the so-called Third World for which Cuba is an example due to its solidarity-oriented foreign policy".
Cuban and European experts recently exchanged experiences on economic and commercial issues as part of the threshold of the first round of dialog which kicks off on Tuesday.
According to the European Union Ambassador in Havana, Herman Portocarrero, the talks may provide a platform to support the current socio-economic reforms underway in Cuba.