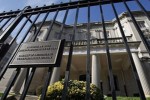 The Cuban Interests Section in Washington, DC has suspended its consular services given the impossibility to find a bank that accepts its financial accounts — a consequence of the U.S. economic, financial and commercial blockade.
A press release posted on the Interests Section webpage refers to its press release of December 9, 2013, informing of a new deadline given by M&T Bank for its ending of banking services to the Cuban Interests Section and the Cuban Permanent Mission to the United Nations. March 1st, 2014 was then set as deadline for the closing of the accounts, and February 14th as the last date for deposits.
The release explains that in spite of the huge efforts made, as a result of the restrictions in force, derived from the policy of economic, commercial and financial blockade by the U.S. government against Cuba, it has been impossible for the Interests Section to find a U.S.-based bank that could operate the bank accounts of the Cuban diplomatic missions.
The Cuban Interests Section now finds itself forced to suspend consular services as of the date of publication of this press release, until banking services are re-established. As reported in November, consular services will only be provided for humanitarian cases.
The Section regrets any inconvenience this situation may cause to Cuban and U.S. citizens who may require the services of our offices, with the negative impact on family visits, academic, cultural, educational, scientific, sports and other types of exchanges between Cuba and the United States.