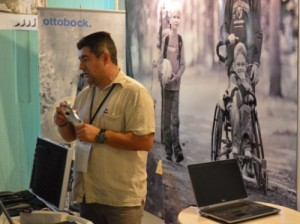 German Prosthetics Corporation Otto Bock will cooperate with Cuba
German Prosthetics Corporation Otto Bock will spend some 3.5 million Euros in the Cuban factory Ortop, at Havana's Frank País Hospital, in order to foster orthopedics both in the island and in Latin America.
The prostheses so far made in the abovementioned institutions lack required quality, so this cooperation will help improving the activity and turning Cuba into a benchmark in the area.
Otto Bock Corporation has several research and development centres, with 42 world subsidiaries. Mexico represents the company in Central America and the Caribbean, thus why their participation in the orthopedic congress, in Trinidad.
Monica Guadalajara, in charge of marketing affairs of Otto Bock, in México, told Escambray about the kind of prosthesis the corporation makes, and the good results attained with mechatronic products like knee devices which can be programmed, as well some special prosthetic hands with finger movement.
Frank Pais Hospital facilities will receive the benefits of the exchange, mostly in machinery, technical equipment, and other necessary supplies.