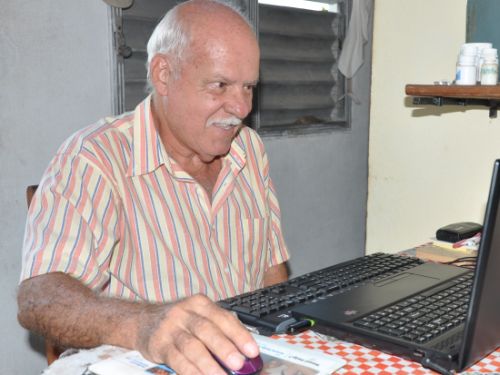 Crescencio González Puentes has for years been good at making laboratory tests, while writing songs, letters, and stories.
In his house, austerity is as common as the sun in the summer season. This looking-good-for-his-age 66 year-old man, who is still in top form in both his medical and art practices, surprised everyone when he announced his retirement a few months ago. This anxious man, whose professional skills are well known, is unable to sit still.
A cuddly cat participates in the conversation with Crescencio González Puentes, who despite being from Havana is an authentic villager. There is no uncomfortable question for him. He's very talkative, and enjoys answering the questions.
Why did you choose to study microbiology, a speciality that has been relegated or even underestimated within the medical field?
I received my medical degree in Havana, in 1970. I was among the first to study microbiology because it was considered a deficient speciality at the time.  I remember I liked to handle instruments and equipments, and everything connected with laboratories or microscopy was fascinating for me. I knew I would become fond of the speciality over the time, and it was the case indeed.
Did you prefer to work in Sancti Spiritus, or was it mandatory? There are fewer possibilities for professional development here. Do you regret your decision?
It's quite a long story. I've been faced with lots of difficulties in my life. It was four of us who graduated from microbiology, and only one was supposed to leave Havana. The positions were obtained through contest. I had travelled to Canada. I had several publications, but there were some tamperings and finally I was sent to work here for five years. Afterwards, all the positions were taken in Havana, and I had to right to return there.
By that time, I had been already assigned a dwelling here. These things happen. I came here against my will. So, I was embittered and predisposed. But I have no regrets because if I hadn't have come here, maybe I wouldn't be the person I am. I thank Sancti Spiritus for having discovered in me concerns I was not aware of. I didn't know I could write songs. I'm not a musician; I neither studied music, nor play any instrument. Finding out that people got interested in what I made was very pleasant for me.
With regard to my professional fulfilment, all depends on how you see it. Wherever you are, you can do research with whatever you have at hand. I was named outstanding investigator of Sancti Spiritus Center of Hygiene in the 1986-1990 period. Despite the shortages of the so-called special period in Cuba, I continued working and investigating, and I was awarded many times. When it comes to researching, I have no limitations at all. Sometimes you wish to have more equipment, but there are people who do have it, and choose routine over investigation.
Why did you retire, and how have you faced such a drastic change when you're still in top form? Is it that you feel like a forgotten old man?
I don't think so. There are things in life you need to prepare yourself for, and retirement is one of them. That's far different from being an active worker that belongs to a group where to shares ideas and objectives. When that ceases, you definitely feel odd. It's very hard in the beginning to relocate both mind and daily life.
Personally, I had to withdraw from my occupation because my partner Orlando got sick and needed permanent care. Of course there were also other reasons involved. In the past cholera epidemic, it was I who directly worked in the isolation and identification of the vibrio. I was assigned that responsibility because I was prepared and trained to do the job. Sancti Spiritus was one of the provinces where the situation was best handled, but I became very upset when information began to be obstructed.
I think that a scientist, someone who's ever been devoted to researching, has to be honest. Epidemiologists had to do their work better, to be open-minded so as to have the support of the population and be able to prevent. It was a matter of ethics, and I said I was not going to deal with lies.
What's your opinion about the microbiology services available in this territory? Which would be your prescriptions in order to improve the currently complicated hygienic and epidemiological situation?
I consider that the services are good. Laboratories have the best quality, and there is total reliability regarding the quality of diagnosis. I always advise to use the epidemiological method. The situation of the province is multicausal, because it's due to accumulated factors that have not been solved in the moment they appeared, or have been only partially solved. When you don't face problems, or face them wrong, you will feel the consequences. Hygiene has many factors and the culture of the population, from personal hygiene to the sanitary practice in the neighborhood or the city, is an important one.
Institutions not always handle problems rigorously. It could be that they don't have appropriately trained personnel, or that workers don't do their job well. This also has an effect upon situations. Public awareness must be increased. What media do is not enough because there is always someone who didn't hear what was said. There are others who ignore things and believe nothing would happen to them. The people must participate and have the knowledge to succeed.
II
With amazing alchemy, Crescencio González Puentes has for years been good at making laboratory tests, while writing songs, letters, and stories, a sort of hobby that is at present moment the alpha and omega of his existence.
He's been several times awarded at the Concurso Cartas de Amor de la Escribanía Dollz (Love Setter Contest). In 2004, he became known as song writer with Los Novas Orchestra, and a song dedicated to the city of Sancti Spiritus. Since then, he has written several musical compositions, most of them inspired by the city, and already included in the repertoire of some local trios.
"For me the city has always been a source of inspiration. I got to know it better in an unfortunate moment of my life, when I had to face the divorce, thus feeling lonely, and suffering from insomnia, facing insomnia, apart from everything that the special period brought about. Few people know it, but I wandered around the historic center of the village for long, so I had the chance to know it like a few people do. I learned the city by heart, and I began to have this feeling of loving it in a different way, of making it part of my source of inspiration".
It's not frequent that a doctor cultivates artistic manifestations. What link could exist between identifying a staphylococcus, and the lyrics of a song?
They might be distant from one another. The scientific method has 10 steps, and you should bear that in mind for your daily life. Implementing them is an art, your have to master the art of applying science. For me, culture was always a concern. I recited poems since I was a child, and I was continuously linked to artistic manifestations.
I already had my two children at the time, and one day I got the idea of writing the children's song La gaviota (The seagull). My daughter played the piano, and my son sang it. They participated in a municipal festival, and won the prize. This song was the beginning. After that, I spent a lot of time without doing anything. I had to deal with the divorce and with the special period, very difficult times for me.
You are among the first of your generation to make you gay life public, and live openly with your partner. After all this time, do you by any chance regret a decision that is still considered daring, taking into consideration existing prejudices?
If I could be born again, there are many things I would have done differently. Life tells you when you're wrong. I would never regret the fact of having lived part of my life with a heterosexual partner, or having had my children. I love them madly, and they love me and respect me in return. They know that my love for them has nothing to do with any other kind of relationship.
Part of the society is still reluctant to respect he singularities of individuals in their private life. I don't mind talking about this issue. I always say that right since the moment I decided to come out and let people know my thought and feelings, I felt myself totally free.
This is a very difficult matter, despite the efforts made to try to respect differences. There's still a lot to do in this respect. It's the virtues of people what matters, rather than what they prefer once they get home. It happened that I changed my preference. Maybe it was always there and hadn't realized it, but I was honest. I accepted it, and it will be the case until the day I die. I don't impose my sexuality on anybody. You shouldn't challenge neither the time nor the society in which you live. I'm the way I am, and I believe I have nothing to regret.
You have written guaracha and son music, but you look like a serious man, having not much to do with bars and nightclubs. How does Crescencio Gonzalez Puentes defines himself?
I like dancing very much. I'm a good dancer, but I'm getting older. It might be that there are two Crescencio, it's like splitting into two, and take out something you've got inside. I'm a mixture of the things I was born with, and others that modified over the years. In the end, you are yourself even though you are diverse. I don't consider myself to be a figure. I'm not a prominent person.