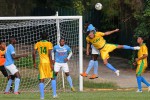 Ciego de Avila beat 1-0 Cienfuegos, thus winning the 99th Cuban National Soccer Championship.
The striker Angel Rodriguez managed to score his seventh goal of the tournament in the 31st minute.
Ciego de Avila's win, along with the 1-1 draw between the defending champion Villa Clara and Guantanamo, allowed the first ones to start their celebrations with two days in advance.
Alberto Gomez opened the score for Guantanamo at just two minutes of the kick off but seven minutes later Yoandir Puga equalized with his eleventh goal of the tournament (leader).
The last time Ciego de Avila had won a national crown dated from the 2009-2010 season.
In the other matches of the day Havana defeated 5-1 Holguín as visitor. The goals were scored by Hector Morales (2), Darío Suárez, Pedro Yandry and Yaudel Lahera (7th of the tournament), while Hector Ramirez got the only one for the locals.
Meanwhile, Las Tunas won 1-0 over Camaguey and Sancti Spiritus did the same against Pinar del Río.
After these results, Ciego de Ávila commands the standings with 38 points, followed by Villa Clara (32), Guantanamo (28), Havana (26), Camagüey (25), Las Tunas (18), Sancti Spiritus (17), Cienfuegos (17), Holguin (12) and Pinar del Río (7).