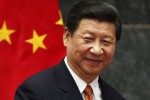 Chinese President Xi Jinping's visit to Argentina, Brazil, Venezuela and Cuba, starting in mid July, was announced officially in Beijing on Monday.
The information on Xi's tour, who will attend the Brics (Brazil, Russia, India, China and South Africa) Summit on July 15-16 in the Brazilian city of Fortaleza, coincides with the beginning of a tour by a group of journalists from those countries, at the invitation of the Chinese Foreign Ministry.
During his stay in Brazil, President Xi will meet with representatives of the Quartet of the Community of Latin American and Caribbean States (CELAC), with whom he will discuss issues related to the Economic Forum between the two parties, scheduled for late 2014 in Beijing.
The Chinese leader is responding to an invitation from President Cristina Fernández (Argentina), Dilma Rousseff (Brazil), Nicolás Maduro (Venezuela) and Raúl Castro (Cuba).
The details of the tour were provided by Foreign Ministry spokesman Qin Gang.
In this context, Xu Jinzhan, director of the Latin America Department at the Chinese Foreign Ministry, evaluated the development of economic and trade relations between China and Latin America and their prospects.
In a press conference with reporters from Argentina, Brazil, Cuba and Venezuela, Xu noted that there is a growing trend in bilateral trade, which totaled 251.6 billion dollars in 2013.
She pointed out that in the first semester of 2014, trade between China and Latin America recovered and increased to 80 billion dollars, accounting for a 6.1-percent increase compared to the same period last year.
Xu added that China's main exports from Latin America are oil, copper, iron and other minerals, but it also includes sectors such as wines, the agri-industry and aviation, while China exports machinery and light industry products.
The official said that Latin America's participation in fair and seminars in China has increased and there is growing interest by local entrepreneurs in that region, thus favoring better understanding of their respective markets and expanding the possibility of commercial development.
She also referred to the Free Trade Agreements with China and Peru and advanced negotiations to sign a similar agreement with Costa Rica.