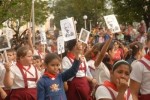 Jose Marti birthday anniversary is marked every year in Cuba
Tribute days to Jose Marti are always commemorated with respect in Sancti Spiritus's teaching institutions.
Exhibitions inspired on the life and work of the Apostle are shown in school classrooms, halls, libraries, and teachers' rooms.
Galas, patriotic and cultural shows, and other school meetings alike have been also scheduled until next January 28th, when Cuban National Hero's 161 birthday anniversary will be celebrated.
The Leer and Marti (Reading Marti) and Sabe mas quien lee mas (That one who reads more, knows more) contests encourage the creation of children and teenagers. Likewise, the Taller martiano (Marti workshop) is an opportunity for pedagogical people to do researches on the subject. According to sources from the Provincial Education Offices, nearly twenty investigations will be presented this year.
On January 28th, the traditional parade will take place in all of the island's municipalities, when the characters of Marti's stories and poems sort of are brought to life by the children.
Several other activities have been scheduled in local communities, hospitals, prisons, and local plazas, in which art instructors, musicians, and singers will take part.
The Patria es Humanidad (Homeland is Humanity) exhibition, at the local Oscar Fernandez Morera Art Gallery, will be appropriate closing tribute to the Teacher.