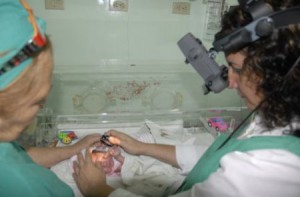 Infants in the territory are being looked after by the Cuban health system, among the best in the world.
Since 2004 and to date, 24 children in the Cuban central province of Sancti Spiritus have been saved from blindness due to the laser treatment received at the Provincial Ophthalmological Center, which has slowed the progress of stage 3 retinopathy of prematurity, precedent to retinal detachment and therefore loss of vision.
"Fortunately, in Sancti Spiritus, all infants under the proceeding have not had the need of different approaches; they all see", said Dr. Miriam Rodríguez Rodríguez, second degree specialist in Ophthalmology and head of the Retinopathy Prematurity Program in the territory.
The key to success is based on early detection of the disease, which involves a weekly investigation to children admitted to the Neonatal Service because of preterm birth (before 32 weeks gestation), weight below the 1 700 grams, intraventricular hemorrhage and respiratory distress; also if they need prolonged ventilation, or have a low Apgar score at birth; most common risk factors that predispose them to be afflicted by this disease.
According to the specialist, all children with retinopathy of prematurity, in any stage, upon turning six months of life, are seen in the consultation of early stimulation to ascertain if they have any refractive error as a consequence of the disease, and, should that be the case, they try to correct it so infants can reach school age with normal visual development.
Sancti Spiritus is one of the provinces with the highest incidence of the disease in Cuba, hence it prides on one of the best established programs in the island for the early detection of patients suffering this affection.
"This is one of the territories that report most cases according to the population density. In Cuba we provide a first world Neonatology service and Sancti Spiritus sets an example. The province has had one of the lowest infant mortality rates, resulting in many children being saved, including preterms, which are more likely to have retinopathy of prematurity "says Rodríguez Rodríguez.
Sancti Spiritus Ophthalmological Center has not only saved from blindness children of the territory, but has also served retina laser treatment to those suffering from the disease in other areas, such as Ciego de Ávila .