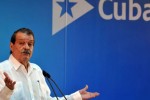 The 2nd Summit of the Community of Latin American and Caribbean States, to take place in Havana later this month, will be very positive for regional integration, said Cuban deputy foreign minister Abelardo Moreno.
The Community promotes unity amid diversity and I'm convinced that the Summit will yield very positive results for Latin America and the Caribbean and for the common goal of strengthening Latin American integration as honor of the 200-year legacy of the independence heroes of our region, said Moreno.
In statements to local television the government official said that the pro-tempore mandate of Cuba in the community met its objectives. He noted that Cuba focused on both political activity and the holding of different forums.
Moreno referred to the CELAC education ministers' forum in Havana last year, which particularly focused on the need to eradicate illiteracy in the region, as well as the meeting of culture ministers with the bloc, who defined the position of Latin America that culture is crucial for development.
He also mentioned other ministerial meetings under the Cuban pro-tempore presidency, such as the forums of ministers of finance, the environment and energy. The latter one was very important since it looked at improving the energy systems of the countries of the region.
On January 28 and 29, the heads of state and government of the community's 33 member nations will meet in Havana.