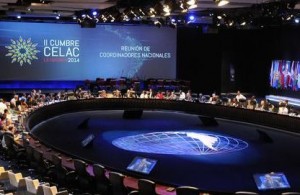 Meeting of the national coordinators of the Community of Latin American and Caribbean States (CELAC), held Saturday and Sunday in Havana.
Venezuelan President Nicolas Maduro and his Ecuadorian counterpart Rafael Correa have referred— more or less directly during these days — to the efforts of certain sectors in Washington and among the oligarchies of the region to try sabotaging the celebration in Havana, by late January 2014, of the Second Summit of the Community of Latin American and Caribbean States (CELAC), attempts that so far have not had any success.
The incentive behind the scenes of any local conflict between the countries south of the Rio Bravo is not limited to nations with which the United States maintains some kind of differences, but its intelligence services work in order to "blow up" the stability and governance in any state, provided that this will lead to friction and conflict with one or more of its neighbors.
In this sense, the reader might ask: what use would it have an article published recently in The Washington Post in which it is assumed the CIA involvement in the punitive Colombian military operation inside the Ecuadorian territory for some time that led to the death of Raul Reyes, one of the main leaders of the FARC -EP?
The plot is so coarse in an informal medium as the quoted above, that is no worth giving it the benefit of the doubt. It appears that someone, in USA or anywhere else, paid for it. They seemed to have calculated that if Ecuador fell into the provocation, they would destroy the relations between Bogota and Quito.
Should the trap had worked, the conflict would have relived with effects also on Venezuela, Bolivia, Nicaragua and other countries in the region, with net benefits to the torpedoing of the unit, already threatened by territorial disputes as the existent between Bolivia and Chile, and Colombia-Nicaragua.
Envy, distrust, conflicting interests, everything is used by the collusion between native reactionary forces and factors of power in Washington to endanger the Bolivarian ideals of unity and solidarity of our peoples.
However, failure after failure and blunder after blunder, Marti's homeland, whose work as head of the regional body has been recognized by not a few leaders and personalities from the area, advances safely to another resounding political victory that, like it or not, will overflow the continental frameworks. It will be a proof of the old saying that the reason, always prevail in the end.