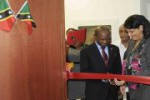 The struggle along with Cuba for regional integration was the focus on Wednesday of Denzil Llewellyn Douglas, Prime Minister of the Federation of Saint Kitts and Nevis, who paid an official visit to Cuba. We'll continue to be next to Cuba in the struggle for integration and understanding in Latin America and the Caribbean, said the visitor after inaugurating the diplomatic mission of his country at the Miramar Business Center, west of Havana.
He defined as decisive the help St. Kitts and Nevis has received from Cuba over the last 19 years of concretion of bilateral bonds.
Cuba's cooperation has made an indelible impression on my country, he said, after mentioning that it has developed in key sectors like health, education, the environment, agriculture and architecture, among others, in which "it has irradiated a positive and fruitful influence."
After his arrival in Havana for the second time this year (the first visit took place in January to attend the 2nd Summit of the Community of Latin American and Caribbean States), Douglas visited places of interest and met with Cuban President Raul Castro, as well as with other with Cuban authorities.