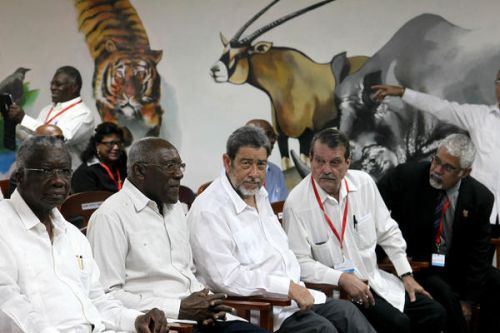 Heads of State or government and other personalities of the Caribbean that will attend the 5th CARICOM-Cuba Summit, toured on Sunday in this capital the National Zoo, one of the largest in the region, with 340 hectares.
The visitors, met in Havana to finalize details of the agenda of regional integration, received information about the work of the facility and the habitat of the new species donated by the Namibian government.
During the tour of the Zoo, founded over 30 years ago, Miguel Luis Abud, director of the Zoo, explained the actions carried out to encourage their reproduction and said that today there are over 120 species in areas of the park, protected and taken care of by highly qualified personnel.
The representatives of the Caribbean community attended on Sunday the political meeting and military ceremony held at El Cacahual, on the occasion of the 118th anniversary of the death of General Antonio Maceo and his assistant, Captain Panchito Gomez Toro, and also honored the martyrs of internationalist missions in African lands.
On Monday, the heads of state will meet at the Palacio de la Revolucion (Revolution Building), venue of the 5th CARICOM-Cuba Summit, to debate topics of maximum priority for the area, such as the impact of climate change, extreme poverty, financial security and the food crisis.