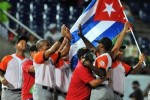 Venezuelan Nueva Esparta Department state court ordered the arrest of seven individuals, presumably involved in the aggression against the Cuban baseball team participating at the Caribbean Baseball Series.
According to the Supreme Justice Court (TSJ), the arrested include Councilor Giusseppe Di Fabio and another six persons, all of them accused of public instigation, association to commit criminal offence and resistance to public authorities.
The preliminary investigation into the case says that a group of individuals tried to violently prevent Cuban baseball players and technical personnel from entering the hotel where they were staying last Sunday.